SAN FRANCISCO — Steve Perlman claims he has a way to put a virtual base station right next to your smartphone. Artemis Networks, the serial entrepreneur's latest startup, aims to give users a five-bar connection all the time, letting carriers pack on their limited spectrum more data than they thought possible.
The Artemis pCell technology creates then tracks a virtual eNodeB base station in a tiny, centimeter-sized zone around the cellular antenna of a mobile device. It uses a mix of distributed antenna and software-defined radio techniques that Perlman claims essentially turns conventional thinking about cellular networks on its head.
Perlman demoed in his lab here eight iPhones laid side-by-side, each receiving separate high-def video streams from a single Artemis pCell. The same cell later sent four ultra high-def streams to four TVs.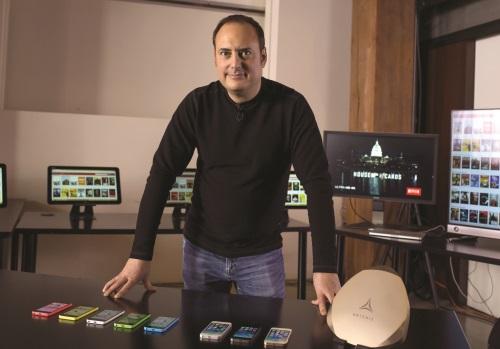 Perlman demoed eight iPhones laid side-by-side, each receiving separate high-def video streams from a single Artemis pCell.
"We're delivering what 5G cellular networks hope to do in 2025 with 4G spectrum and LTE devices today," said Perlman, one of the early developers of Apple's Quicktime, who later went on to found Web TV Networks, Movea, and OnLive.
By publicly announcing the technology, Perlman hopes to drive it broadly into the market. But even supporters see a big challenge proving the ideas in big networks and getting carriers try the startup's technology on their precious spectrum.
"I am pretty confident that the technology will work in a low mobility environment — people in a stadium at a ball game for instance," said Pieter van Rooyen, another serial entrepreneur familiar with the Artemis technology.
"I think in a high mobility environment with lots of users, it could be challenging due to many users' channels changing quickly, and only extensive large scale deployment will tell the limitations in this case," said van Rooyen, an architect at Zyray Wireless, a startup that pioneered multiple antenna technologies for 3G baseband chips. It was acquired by Broadcom in 2004.
"The big challenge is to commercially deploy it," said van Rooyen who met Perlman 12 years ago and tracked his work in the area. "There's been a large number of broadband wireless plays and very few of them have been successful, not because their technology wasn't successful but there's lot of barriers getting carriers signed up," he added.
Carriers are far along in testing a new generation of small-cell base stations aimed to add capacity, especially to urban networks clogged with mobile data. Perlman claims his approach, while radically different, will provide more capacity at lower cost.
Next page: How it works
http://img.deusm.com/eetimes/2014/02/1321052/Artemis_Steve_Perlman-x-500.jpg